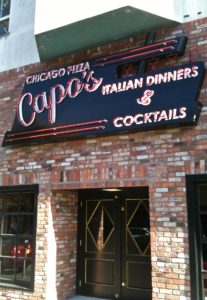 Tony Gemignani enlivened Washington Square Park when he opened Tony's Pizza Napoletana on Stockton and Green a couple of years ago. Now he hopes to have a similar effect on the moribund block of Vallejo between Stockton and Columbus with his new restaurant, Capo's Chicago Pizza and Italian Dinners.
After a year of construction, Capo's finally opened late last week. The new North Beach hot spot features deep-dish pizza and other Chicago Italian-American favorites. Hopefully, Capo's will bring this block of Vallejo back to its former glory too.
"I want Capo's to feel like a neighborhood place that's been here for years, while also transporting guests to a moment in time when Italian-American cuisine began to form its roots in our culture," says Tony.
Gemignani designed the space to evoke a '30s Chicago feel, including photos of infamous mobsters Frank Nitti and Al Capone above the red leather booths. Another throwback to that era, reservations can only be made by telephone and you must pay with cash.
Be sure to get there early. Tony's special pizza Quattro Forni is baked in 4 different ovens and he only makes 20 a day.
Here's the Capo's menu.
Buon appetito!