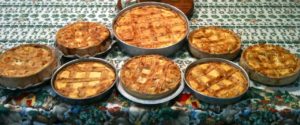 Natale con i tuoi, la Pasqua con chi vuoi, Christmas at home and Easter with whomever you wish" is an old Italian saying.
Friends are coming to my place for Easter dinner next Sunday. I'm making 2 traditional Easter deep-dish pies from Naples that will bookend the meal.
The savory Pizza Rustica will be the antipasto course and the sweet Pastiera Napoletana will be dessert. You can make them too. Watch me making Pizza Rustica and Pastiera Napoletana.
Lucky for me I'm only making one of each pie this year. The picture above shows some of the pies I made a couple of years ago when the family gathered in Virginia. I had to ensure we had enough for Easter dinner and for everyone to take some home too.
I'll post recipes for the rest of the Easter meal this week: Stracciatella, a Roman egg-drop soup and pollo alla Romano, chicken with red and yellow peppers in a light tomato sauce.
Buon appetito!