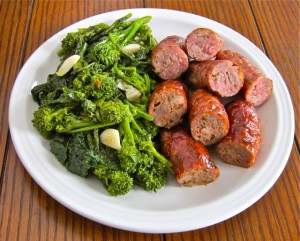 Here's one of my favorite dishes that's easy and quick to make for a weeknight dinner. You'll be eating in a half hour or so.
Roast the sausage in a hot 425 degree oven until they're golden brown.
While the sausage is roasting steam/saute the broccoli rabe in a big covered pot with garlic, red pepper flakes and extra virgin olive oil.
The broccoli rabe is infused with garlic and the hot chili flakes add a perky sparkle as you swallow.
I chose two Little City Meats homemade sausages to diversify a bit. One is the mild Sicilian with fennel seeds the other a hot Calabrese with dried chili.
Sometimes I want to extend the heat and I'll grab a hot Calabrese. Sometimes I want to calm it all down and go for the mild Sicilian instead. Either way with a crusty chunk of Italian bread you'll be in heaven.
For a vegetarian alternative I often just have a bowl of broccoli rabe with a hunk of crusty bread to soak up the cooking broth.
Either way quick, healthy and delicious. Your dinner all on one plate.
Buon appetito!

Broccoli Rabe and Italian Sausage
Ingredients
2 bunches of broccoli rabe
2 tablespoons of extra virgin olive oil
1½ pounds your favorite Italian sausages
3 cloves garlic, peeled and smashed
⅛ teaspoon crushed hot red pepper flakes
sea salt to taste
¼ cup water
Instructions
Heat the oven to 425 degrees.
Put the sausages in a roasting pan large enough so that they have room between them so they'll roast and not steam.
While the sausage is roasting prepare the broccoli rabe.
Remove any wilted or discolored leaves and the tough large leaf from each broccoli rabe stem.
Cut off the tough bottom end of each stem. (You can peel the lower end of the stem but I usually cut it at the juncture of the floret stem and the lowest leaf.)
Wash the broccoli rabe and drain them.
Put the olive oil, pepper flakes and garlic in a large pot with a lid and heat the oil over medium heat until the garlic just starts to turn translucent.
Add the broccoli rabe and sea salt to taste.
Pour in the water, bring to a boil, and cover the pot tightly with the lid.
Steam, lifting the lid to stir occasionally, until the broccoli rabe is softened, about 5 minutes.
Uncover and cook over medium heat until the liquid is evaporated and the broccoli rabe is tender, about 5 minutes.
(If you want a milder broccoli rabe blanch them in boiling water for about 30 seconds and drain them before adding to the hot olive oil. Finish cooking as above.)
Return the sausages to the pot to warm them through.
Serve the sausages on a platter, with the broccoli rabe on the side.