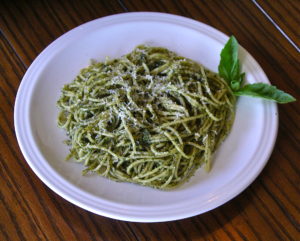 Don't know why but I've been putting off making basil pesto–a simple salsa verdi (green sauce) from Genoa. I couldn't wait any longer when I got a deal on a couple of bunches of small leaf organic basil this morning. By early afternoon, the kitchen was sweetly perfumed by the fresh basil marinating in the morning sun when I returned to make the pesto.
Yeah the Genoese insist you must use a mortar and pestle to make this pesto. I don't have one so if you don't either, use a food processor to mince the basil, garlic and pinoli and then mix in the grated cheeses and the butter to give the pesto more texture. Not the authentic Genoa way, but taste is never sacrificed.
Just a few ingredients and you've got this pesto in 10 minutes. Use it to dress fettuccine as they do in Genoa (they call the dish trenette) or with spaghetti as I did this time. This pesto is really versatile. Use it as a sauce with roasted meats, as a pizza topping with fresh mozzarella and grated pecorino romano, or add a dollop to a soup like minestrone.
Ah, summer!
[amd-recipeseo-recipe:39]