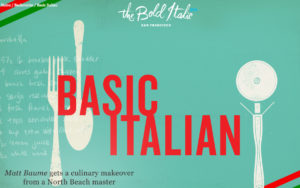 Local writer Matt Baume penned a fabulous write-up of me for The Bold Italic, a beautifully-designed San Francisco web magazine that bills itself as "an experiment in local discovery."
Gianni Mola [is] a neighborhood fixture in North Beach who knows his way blindfolded around every corner market, pizza joint, and delicatessen. There isn't a meal served in North Beach that Gianni isn't familiar with.
I'd certainly like to believe that! The piece really gets to the heart of what I'm trying to do here in my little Italian village of North Beach – carry on the age-old cooking, eating, and socializing customs of Italia, and advocate for them to others.
Of course, I'm not the only food-loving person on the planet doing that, but I do feel that North Beach as a capital of authentic Italian culture is under-appreciated, and as a neighborhood, often misunderstood.
That seems to come across clearly in this article, and additionally (unlike so many sites our there), it looks good enough to eat.