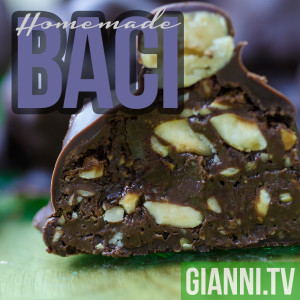 We shot 3 new video episodes yesterday. Don't miss any of my new YouTube cooking shows released every Saturday. Subscribe today.
Even though I was busy shooting I had time to make these too.
Perugina Baci, the chocolate covered hazelnut kisses with little love notes tucked inside are a must for Valentine's Day.
Why not have fresh? Make your own with this simple recipe. Even you guys can make this one for someone special. And if you don't want to write your own note go to Perugina for love note ideas.
I was inspired by this video clip to show you how to make baci.
My friend and superb teacher Viola Buitoni sold out her Valentine's Day event at the SF Italian Cultural Institute. Her family started Perugina Chocolate in Perugia and have been making baci they invented since 1922. Call the Institute. Sometimes you can score a ticket if someone cancels. If you get lucky you'll learn how Viola makes baci and hear her family stories.
If you need Valentine inspiration here are some other suggetions for that special day. Stay home and cook. The restaurants will all be insane.
Make my romantic spaghetti in a pocket or how about super easy baked ziti. If you insist on going out here are some romantic North Beach restaurant suggestions.
And if you want to get a little weepy read how a parental spat created an accidental heart when I was growing up in Jersey.
Don't forget to add love notes to your baci gifts.
Happy Valentine's Day. Buon appetito!
Baci: Make Chocolate Hazelnut Valentine Kisses
Homemade chocolate & hazelnut baci. These kisses are easy to make. If you like intense chocolate flavor with roasted hazelnuts this one's for you.
Ingredients
1 cup whole hazelnuts, roasted
6½ ounces Nutella or chocolate-hazlenut butter if you want organic
⅓ cup unsweetened cocoa powder
6 ounces dark chocolate
Instructions
Roast the hazelnuts in a 425 oven for 10 minutes. Remove the skin from the nut.
Set 20 whole hazelnuts aside.
Pulse the hazelnuts in a food processor to break the nuts into small pieces or chop them by hand.
Put the chopped hazelnuts, the Nutella and cocoa powder in a bowl.
Mix them well with a spatula to form a smooth dough.
Form 20 balls and place them on a parchment-lined baking sheet. Gently push a whole hazelnut on top of every ball. (If the dough gets too hard to shape chill it in the freezer.)
Place the sheet in the freezer for about 20-30 minutes.
Melt the chocolate in a double boiler.
Dip the chilled "baci" into the melted chocolate. (I hold it on a fork in the chocolate and spoon chocolate on top to cover it all over.)
Put the baci back on the parchment-lined baking sheet.
Allow them to dry a few minutes. (If the baci aren't firming up well put them in the freezer for a few minutes.)