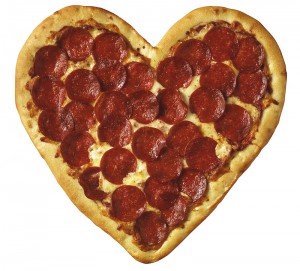 When I was a kid in Jersey, if we didn't order Sunday night pizza from Falcone's on Bloomfield Avenue, my Mom made it for us. One Sunday while she was putting the finishing touches on a tomato pie with oregano, mozzarella and anchovies, my Mom and Dad also happened to be having a "heated discussion." I was maybe 7.
I don't remember what they were fighting about. I was worried about the pizza. To my horror, my Mom opens the oven door, throws the pie in and slams the door shut. Oh no, I thought, this ain't good!
About 10 minutes later the pie comes out of the oven, perfectly done, and – it was in the shape of a heart!
When my Mom and Dad saw that they embraced. The fight was over. And I got my pizza pie.