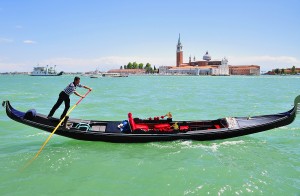 da Flora just may be my favorite restaurant. Been going for a dozen years. When I lived up the block I waited tables when they were short-handed and even baked a couple of dolci for them.
Fifteen years ago when I first stumbled in, Flora was at the stove. She'd come out and take the order then disappear into the kitchen to cook our Venetian dinner. She's shared her Italian food and wine insights with me for a decade or more. I've spent many wonderful days with her in Venice enjoying her favorite places and eating in the homes of Venetian friends.
Flora these days is in the dining room but her spirit is everywhere. Her Italian wine selections are phenomenal. She always pairs the right wines for our table. She is joined by Mary Beth (MB) who does the baking, and Jen who is a genius in the kitchen. What an incredible trio!
Jen's constantly changing menus celebrate each season – the best ingredients simply prepared. She has been nurturing me for a long time. Her sweet potato gnocchi and fegato alla veneziana (Venetian-style liver) are world-renowned. She taught me how to cook fava bean leaves just last week. The pappardelle that night were particularly silky.
MB is an extraordinary baker. Her focaccia is light and airy with a golden crust glistening with olive oil and sea salt. I've been watching her make it for a decade and I still can't come close. Her multiple dolci posed a dilemma resolved by having one of each. Heaven.
Flora lived in Venice, a.k.a. La Serenissima (The Most Serene Republic) for it's preference for trade over war, for many years and they all spend time there each year. Their deep understanding of Venetian food, wine, and culture shape every dining experience at their ostaria.
Join me at da Flora's on Sunday afternoon, May 22, 2 to 5 p.m. We're eating as they do in Italia – il pranzo nel pomerrigio, the main meal of the day, eaten in the afternoon.
The women and I came up with four courses to celebrate spring. Fava beans, red spring onions, asparagus, sweet peas and early lemons are the stars. Flora paired four spectacular wines to accompany each of the courses.
Celebrate spring in Venice without leaving North Beach. There are only 30 places at our table for this very special pranzo.

A Taste of Venice in Springtime, Sunday May 22nd, 2pm–5pm
Venetian cuisine from the women of da Flora. Four courses paired with four wines.
The Custom Menu
Antipasti Tris
Bacala montecato col polenta. Crispy slices of polenta topped with creamy whipped salt cod and potato, served with spiced black olives.
Crema de fave col pan. Crostini with marinated fava beans, fava puree, lemon-infused extra virgin olive oil and shaved pecorino.
Paleta de risi frita. Fried rice balls (arancini) stuffed with bay shrimp with a spicy aioli (without shrimp for vegetarians).
Vino: Adami Prosecco Valdobbiadone NV (Veneto). Citrus and melon aroma, clean, light and crisp with tiny bubbles.
Primo
Tagliatelle col bisi. Fresh pasta with spring peas, ricotta salata and cracked black pepper.
Vino: La Montechia Piuchebello 2008 (Veneto). From a small producer in the Euganean Hills near Padua a wonderful mellow, yellow wine from Moscato grapes.
Secondo
Lombatino di porseo. Spice rubbed roasted pork tenderloin with sauteed fava leaves, roasted asparagus and pickled red spring onions with a whole grain mustard sauce. (A vegetarian substitute is available.)
Vino: Tezza Campo di Majoli 2006 (Veneto). A blend of indigenous Corvina grape, the dark star of Valpolicella it is an elegant medium bodied red wine with black cherry aroma, spicy verve and the balance of Cabernet.
Dolce
Crostata di limone. A Meyer lemon marmalade/custard pie with a butter crust and a dollop of whipped cream.
Vino: Zibbibo. We reach down to Sicilia for this dessert wine with an Arab name to pair with Meyer lemon. It is a spirited digestive with honey color and flavor.