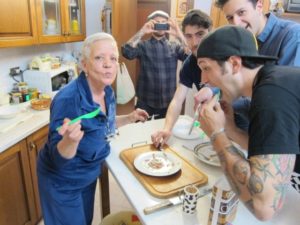 Giulia, the petite and effervescent aunt of my Roman producer, stopped by the apartment as we were setting up for the video shoot.
She was doubtful that a guy from San Francisco could cook Roman dishes and she wanted to see for herself.
Giulia does most of the cooking when her extended family gathers. I was glad she was with us. I was sure she would teach me a thing or two.
She really liked my sautéed chicory and the spring vegetable stew. Now we were best kitchen buddies and I tried to absorb all she told me in Italian.
As we talked about what was next up for me to cook, I had an idea. Maybe Giulia would show me how she cooked these dishes. I'd be her assistant.
After a bit of hesitation, she agreed to go on camera, as long as she could freshen up a bit first.
What an unexpected gift to have a Roman share her family veal saltimbocca and spaghetti cacio e pepe recipes with me.
When we post the Roman episodes you can make these dishes your own too.
Buon appetito!