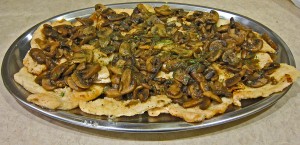 You would think everyone would be sated after a big Thanksgiving feast. Two branches of the family were here in northern Jersey and we didn't want to miss the opportunity to gather together before everyone scattered.
While heavily Italian-American, our table reflected the ethnic blending in America and the many diets prevalent today. The menu was crafted to satisfy the cravings of some at the table and the dietary needs of others.
My goddaughter makes a mean yellow rice passed down from her husband's maternal Syrian grandma and it was a special request. One of my nieces is vegan so I wanted to make sure there were dishes she could eat too. It was a spectacular meal.
Here's the menu.
Anitpasti platter with all the stuff we didn't finish on Thanksgiving.
Ditali pasta in a simple onion and pea sauce.
Chicken Marsala, broccoli rabe and yellow rice. My vegan niece Jo Anne brought great peppers stuffed with spicy mushrooms, quinoa and black beans.
Dolce was all of the pies and cakes we didn't finish on Thanksgiving. JoAnne's vegan pumpkin bread was the star.
We had a great day together, catching up on all the family news and enjoying just being together. In our family, our culinary tradition is the glue that holds us all together.
This Chicken Marsala is an easy recipe with a really big payoff. We made enough for 20 at the table and some for Breanna to bring back to college to share with her friends. Buon appetito!
[amd-recipeseo-recipe:72]