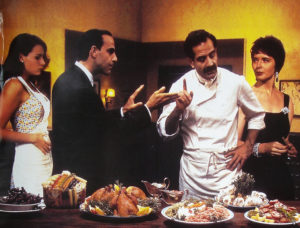 Many of you have been reading last year's Valentine's Day post Accidental Heart a cute memory from when I was a kid in Jersey. It's that time of year again. Valentine's Day is next Tuesday.
I'm not a big fan of going out for dinner on Valentine's Day. It's one of the worst nights of the year for restaurants. Too many people.  Too many emotions. Too many expectations. I know. I owned one. Good money though. I dine at home. Much more convenient. Here's a quick but romantic dish you can make at home.
If you want to go out here are places in North Beach cooking authentic Italian regional food that I'm sure you will enjoy even on Valentine's Day.
da Flora A romantic spot for Venetian food on Columbus. My favorite.
Vicoletto A cool spot featuring zesty Calabrian food from the south of Italia on bustling Green Street.
Ideale Classic Roman food on Upper Grant, a romantic North Beach block.
Rose Pistola A beautiful recently renovated space for Ligurian food from the Genoa coast on Columbus.
Original Joe's Re-opened in a gorgeous space for Italian-American food San Franciscans have enjoyed since 1937.
And just for good measure here are 2 restaurants that don't serve Italian food.
Cafe Jacqueline Lovely candlelit intimate French souffle spot on Upper Grant. The chocolate souffle some say is an aphrodisiac.
Park Tavern Wonderful California cuisine right on Washington Square.