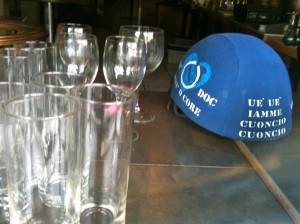 I heard it on the street Thursday when I returned to the Village from a few days on the Sonoma Coast – Pulcinella is closing. I'm in mourning. We're losing another North Beach treasure. Our Neapolitan hosts were passionate about the food of Naples. Pulcinella cooked up great street food, fried antipasti treats, true Neapolitan pizza and pastas. The passing of Pulcinella reminds me to be passionate about supporting what's left of North Beach before it's all gone. It happened in New York City, Chicago, Newark. Once vibrant Italian neighborhoods all over America have disappeared.
I cringed when I saw the Chronicle's Inside Scoop post. Its harsh cynicism brought a tear to my eye.
Mauro, Dario and Fabio did a great job and we will miss them dearly. I caught up with Mauro today to wish him buona fortuna and to say good-bye. The pizzeria's owner in Naples is ill and decided to close this San Francisco outpost. Pulcinella had a good run. I'm happy the boys from Napoli were with us for the last couple of years.
Here's how I'll remember Pulcinella: