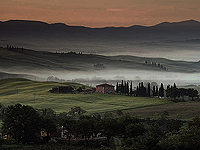 Tuscan Food & Wine Pairing, Sunday March 6th, 6pm
Tuscan cuisine from the Gambaccini family of Caffé BaoNecci. Four courses paired with four wines.
Tuscan Cuisine at Caffé BaoNecci
Sunday, March 6th, 6pm
Known for its thin-crust pizza, the restaurant might be small, but the family who own it are larger than life. Walter and Stefania Gambaccini, and sons Elia and Filippo, are recent immigrants to North Beach, moving here from the village of Altopascio near Lucca.
Stefania is cooking a four course meal that she used to make in her home village in Altopascio (she may even share a song or two). Walter is showcasing some hard-to-find wines, including a wonderful Chianti from a friend's vineyard in Montalbano.
Come join us for a typical Luccese meal and gain new insight into the cooking and culture of northern Tuscany.
There are only 40 seats at the table, so buy your ticket now. Bring some friends, and make some new ones, during this evening of fine Tuscan food and wine.
I'll even send you a recipe or two after our delightful evening at BaoNecci.
In this video, I introduce most of the family, and they talk about the food, as son Elia translates his parents' Italian…
In part two of the video, Walter talks about the wine…
The Menu: 4 courses paired with 4 wines
Antipasti
Crostini Toscani. Tuscan chicken liver pate on a thin toast. (I'm not crazy about liver, and I love these.)
Bruschetta con pomodoro. Tomatoes with extra virgin olive oil, salt and basil.
Prosecco Negroni NV. From the Veneto with white peach and pear tones in this bright and light sparkling wine.
Primo
Zuppa Ribollita. This classic bean and vegetable soup takes two days to make.
Chianti Fattoria Montellori 2007. From Walter's friends in the Montalbano zone in the Chianti district west of Florance the Nieri family have produced a fine cherry colored medium-bodied wine with soft textured fruit. A reminder of the delicious, haunting Chiantis that flow from the casks of the finest Tuscan trattorie.
Secondo
Pollo alla cacciatora con polenta. Chicken in a tomato sauce flavored with garlic and sage and these tiny multi-colored Tuscan olives cured with bay laurel and clove. Served with polenta to help soak up the sauce. Vegetarian option: Sformato. A molded vegetable souffle-like dish with zucchini, eggplant and carrots.
Bolgheri Rosso Michele Satta 2008. A Super Tuscan blend of Cabernet Franc, Sangiovese and Merlot from southern Tuscany, the land of Sassicaia. The wine has a bouquet of red and black fruit, leather and tobacco, good fruit balance and dry finish.
Dolci
Crostata con marmellata di albicocche. A rustic tart with apricot marmelade.
Crema di savoiardi. Layers of liqueur-soaked ladyfingers and pastry cream.
Vin Santo Montellori. A favorite Tuscan dessert wine with marmalade and sherry aroma and a full flavor of orange zest and roasted nuts.