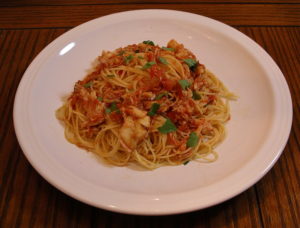 Just back from Christmas with friends and family in Jersey. Now it's time to plan my New Year's Eve menu. I'll share this year's menu when I'm done.
In the meantime, here are a couple of classic dishes to get you started with your planning. I know I'll make both these dishes this year.
Like many other cultures, Italians and Italian-Americans serve a bean dish as a talisman for a successful new year. The lentils in my dish symbolize all the money you're gonna make next year. It's a delicious, nutritious lentil soup with sausage. Add it to your New Year's table.
Thank God the San Francisco dungeness crabber strike is settled so we'll be eating fresh crab. I'm making linguine with a zesty dungeness crab sauce. Any long pasta will work. I like it with capellini too.
Check out the New Year's meal I served last year. It was quite tasty and lasted right up to the Times Square ball drop.