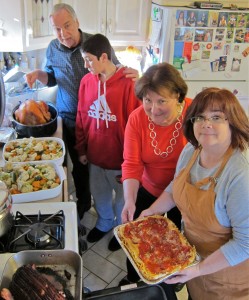 We're all gathered in northern Jersey for our Italian-American Thanksgiving dinner, 3 generations in the kitchen today. My sister Rose and her daughter Wendy are in charge, I'm just the sous chef. RoRo has been rocking in the kitchen since 7 this morning and barking out orders to us non-stop. There will be about 20 of us at the table at 4 this afternoon, not sure when we'll be done.
Here's the menu:
Antipasti
Platters with prosciutto, salami, mortadella, provolone, fresh mozzarella, smoked scamorza, Italian tuna in olive oil, roasted peppers, marinated mushrooms, giardiniera, marinated artichoke hearts, oil-cured and Sicilian green olives
Primo
Lasagna with layers of ricotta and mozzarella, meat sauce and parmigiano (Wendy's recipe is below)
Secondo
Turkey, 2 different stuffings, roasted mixed vegetables, mashed potatoes with gravy, maple syrup candied sweet potatoes, homemade whole cranberry sauce and just in case there's not enough a baked ham
Dolce
Desserts will be Italian ricotta cheesecake, strufoli (fried dough balls covered with honey and sprinkles), pumpkin pie, coconut custard pie, lemon merangue and chocolate cream pie, roasted chestnuts and RoRo's famous fresh fruit pedestal.
My vegan niece is at the table so we're making sure that we have plenty of vegetables and other sides to accompany her tofurky.
[amd-recipeseo-recipe:71]