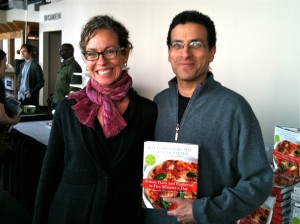 I met many of the 400 passionate food bloggers who gathered at the annual Foodbuzz Blogger Festival this weekend in San Francisco. A full day of sharing ideas and techniques about blog writing, photos, building your audience. Boy, I learned a lot especially about photos, tips that I will use to up my pix game.
I stopped by to see Zoe Francois and Jeff Hertzberg of Bread in Five fame. Rick Kleffel interviewed them just before coming up to my place. Zoe and Jeff were handing out copies of their fantastic book Artisan Pizza and Flatbread in Five Minutes a Day. Gotta love their message. When you make pizza dough make enough to use that day and enough to stash a supply in your refrigerator. Heat up your oven and every day you can grab a hunk of dough and make a loaf of bread, a pizza or focaccia in just 5 minutes. That's what I do and it keeps for about 2 weeks taking on a bit of a sour flavor near the end.
I'll let you know when Rick Kleffel's radio show will air and when his podcast is up.