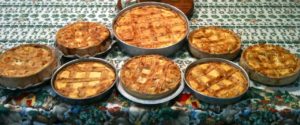 The Spring holidays are upon us.
Passover is covered. We'll be at Joyce Goldstein's Seder celebrating the Italian Jewish kitchen. (Our private table is full. Sorry to those of you who wanted to join us. Maybe next time.)
Now I'm getting ready for Easter. I'm making Pizza Rustica and Pastiera Napoletana, the traditional deep-pan pies that bookend the Easter dinner. The savory Pizza Rustica has a ricotta, mozzarella, prosciutto, salami and sausage filling and is served as the Easter dinner antipasto. Pastiera Napoletana is the traditional Neapolitan sweet pie filled with ricotta, wheat berries and candied orange and lemon peel and ends the Easter dinner.
I'm not making as many pies this year as I did for family in Virginia last year. Eight of the pies are displayed on my sister's table in the picture above. Three generations were in the kitchen baking pies on Saturday to let the flavors marry over night. We needed enough pies so that everyone at the table had some to eat on Easter and some to take home and enjoy during the week. It's a long-standing family tradition.
When growing up in Jersey our neighbors shared their pies too. My Easter-time job was to bring a fat slice of my mom's pies to our neighbors and bring home some of their pies for our family to taste. I have to admit that after tasting a half-dozen samples I always thought my mother's were the best.
Watch me making my Mom's Pizza Rustica and Pastiera Napoletana. You can make them too. Buona Pasqua! Happy Easter!