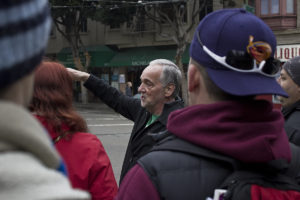 As 2011 comes to a close North Beach is healthy and on the verge of a new dawn.
New restaurants, shops and galleries brought more visitors to the Village and more choices for me and my neighbors. The evening Holiday Boutique Crawl featuring 26 unique North Beach shops and galleries last month was enjoyed by well over a thousand shoppers! Every day visitors and neighbors fill the caffes, restaurants, markets and art galleries. North Beach's pulse is strong.
Washington Square is booming. Park Tavern in the old Moose's space on the east side of the Square draws big crowds and is a fun place to have dinner. Bottle Cap on the other side of Columbus offers comfort food in the old Washington Bar and Grill space. Original Joe's will open in January with lots of outdoor seating facing the Square.
Not all went well. The Neapolitan pizzeria Pulcinella on Vallejo closed but we were able to save the heavily damaged mural "Song of Pulcinella" by Vranas. After a successful restoration we're looking for a place to display this beautiful view of the Bay of Naples. I miss Pulcinella, the only Neapolitan restaurant in the Village. Here's a taste of the food and culture that Pulcinella represents now gone from North Beach. The new Pakastani/Indian place Maza on Union couldn't get a footing and closed earlier this month.
I predict that 2012 will be the year that North Beach is back, updated but stronger than it has been in 60 years. The traditional roots of the neighborhood, Italian food, a vibrant artist community, and great shopping, grew deeper. New arrivals broadened the Village's appeal. Two stretches of the neighborhood hold the key.
I have my eye on Vallejo Street. Tony Gemignani of Tony's Pizza will open Capos featuring deep-dish pizza and his pizza school in the Pulcinella space. An oil on canvas mural that captures Vallejo in all its glory in the 50s will be re-installed. (The rolled up mural was found stashed behind a wall during remodeling.) Victoria Pastry on the corner will move to Filbert near Washington Square. Italian-French Bakery now on Upper Grant will move in. Geppetto the new Italian deli (salumeria) will open in January. Vallejo between Columbus and Grant will be transformed into the Poet's Piazza anchored by the National Shrine of Saint Francis of Assisi and Caffe Trieste. I truly hope Italian-French will be re-born as a great artisan bread bakery. North Beach needs one.
Upper Grant is on fire. Park and Pond opened featuring the work of local artisans. 1814 a few doors away showcases great t-shirts and hoodies by local artists. Al's Attire moved into a great retro space for his custom clothes and shoes. Tupelo, a new watering-hole, serves southern comfort food. The new Little Vine is an old-fashioned market with a great selection of cheeses, cured meats and carefully selected food products. Emerald Tablet will blossom in 2012 into a fantastic gathering space for artist workshops and other salon events. There are a couple of stores to be had and lots of opportunity for the right business. And it looks like the old North Beach Pizza space is being updated so maybe that long-vacant spot will be scooped up soon.
You can follow it all on Gianni's North Beach 2.0. My producer Jeff Diehl and I will launch our new website in January. You'll easily access my Village reports, all of my cooking demonstrations and blog recipes, upcoming private events and soon to be announced culinary tours in Italia on our cool new site. First up on the re-designed site are two new cooking demonstration episodes that you will love.
Felice Anno Nuovo! Buon Anno! Happy New Year! See you in 2012.