While in The Second City I wanted some of its legendary dishes, but no fancy restaurants this time. I'm on the prowl for tasty Chicago casual food. Here's some of what I found.
Manny's is about 2 miles outside of downtown. They've been making Jewish deli food since 1942. You order your food at the counter then go find a table and you don't pay until you're on your way out. Must be a deli tradition – same M.O. at Katz' in NYC's Lower East Side.
Don't hold up the line figuring out what you want to eat. The guys behind the counter will tell you they only have 9 items and everything's on display right in front of you – so hurry up people are waiting. I got a corned beef sandwich. The counter guy who's been slicing corned beef and pastrami here since he was a kid just kept slicing and slicing. I thought he'd never stop! He grabbed a fist full and dumped it on rye bread, cut it in half, and miraculously threw it all on a plate in one fell swoop.
"That's crazy, who can eat all that?" I demanded.
"Not me anymore," the counter guy said.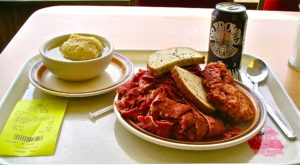 Here's my sandwich overflowing with about 2 pounds of meat! That's a potato pancake on top.  You can't even see the 2 dill pickles buried on the plate. A bowl of matzo ball soup and a Dr. Brown's cream soda rounded out my lunch.
I did a pretty good job on the corned beef. It was lean but had just enough fat to give it rich flavor. The potato pancake was creamy inside with a nice crunchy exterior – fatter than I'm used to, but delicious. And the chicken soup and matzo ball were some of the best I've had.
Giordano's makes a dynamite stuffed pizza but I wanted deep-dish. So what's the difference? Deep-dish is made with a cornmeal dough and baked in a deep pan brushed with olive oil to give the crust an almost fried finish. Stuffed is built like a deep-dish but also has a top layer of regular dough that's topped with sauce then baked.
Luckily, Gino's East was just a few blocks from my hotel. My deep dish had a thick side crust with a distinctive cornmeal flavor that holds up well to the mozzarella-sausage filling and sweet tomato sauce. It takes 45 minutes to bake so don't go when you're starving! If you can't wait for you next trip to the Windy City try Patxi's in Hayes Valley, the Marina and several other locations for great deep dish or stuffed pizza.
Chicago street food sold from sidewalk carts or stands has a long and proud tradition. You can still see hot dog carts here and there as you walk the city. I was on the prowl for 2 of the best – Italian Beef and Chicago Dogs.
I love Chicago's Italian Beef sandwich. One of my favorites is at Al's Beef. Al Ferreri started Al's Beef in Little Italy in the 1920s. Story is that during the Depression meat was scarce. At weddings and other large family gatherings they sliced the meat thin and made it into panini so everyone would get some. It was so popular the family started selling Italian Beef sandwiches from a street stand and then moved to the store still on Taylor. Italian Beef supported the family for 70 years or more – they sold the business in 1999 and now there are several places all around Chicagoland still using Al's original recipe.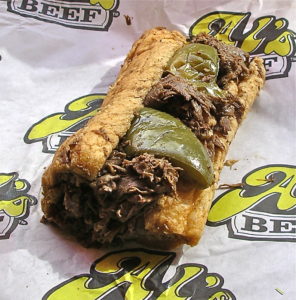 Here it is in all it's sloppy glory. The beef is long-cooked – sliced thin and served with sweet fried peppers or with a spicy hot pepper giardiniera on a roll. Be sure to tell them to "Dip it!" so the roll gets dipped in the pan gravy to add more flavor. Al's Italian Beef is tender and moist and the gravy is fantastic with just a hint of black pepper heat. Even being "dipped," the roll held up well – the sandwich was 5-napkin messy but easy to pick up and eat.
Portillo's downtown and other Chicagoland locations, and Billy Goat Tavern downtown and at O'Hare, make a fabulous Italian Beef sandwich as well. In North Beach, Tony's Slice House on Stockton near Union makes a great Chicago Italian Beef sandwich. That's where I go when I need a fix.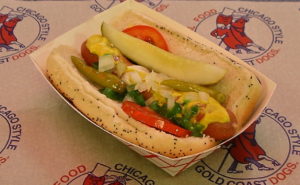 A Chicago Dog is a balanced meal on a bun. They take a boiled or charred Vienna Beef hot dog and drag it through the garden – resto talk for piling on all the veggies. Here's a Gold Coast Chicago Dog on a poppy seed bun with dill pickle spear, hot sport's pepper, tomato wedges, chopped onions, neon green relish and yellow mustard. The crowning glory is a heavy sprinkle of celery salt to tie everything together. To be honest I settled for Gold Coast. I wanted to go to Superdawgs but it's all the way out near O'Hare and you know what that expressway trip is like. Ugh! And Hot Dougs usually has a line around the block. No way it's just a hot dog.
Well, my diet this Chicago trip might not have been the healthiest but it was the tastiest. Fear not – Chicagoans eat healthy. Here's a street farmer's market I stumbled upon off State Street on a rainy morning. All is not lost – I stocked up on some fruit for my hotel room!
Next time in town I'll try to temper my appetite for all this casual food and enjoy some of the great Chicago chefs and their restaurants.