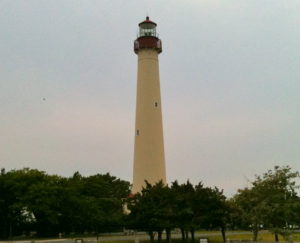 MTV's Jersey Shore is more about class and culture than New Jersey or Italian-Americans.
The Situation and Snooki could have been in my high school class. They were Rocks and we were Rah-Rahs.
The Rocks belied the American dream. They were first or second-generation Italian-American kids who did not do well in school and ultimately would not overcome their lower middle-class upbringing. The Rah-Rahs included a small minority of Italian-American kids who did well in school. Many would be the first in their families to go to college and rise up the economic ladder. All of us grew up proud of our southern Italian culture that was somewhat diluted and perverted here in the United States.
We all went to the Jersey Shore – for some of us it was an escape from the summer urban heat, not a way of life.
The Jersey Shore boasts some of the best beaches on the east coast. I remember these fondly from my time living in Jersey.
On the northern end, Long Branch was a popular destination for Italian family day-trips and soon had a significant year-round community. Long Beach Island was a favorite when we worked at Gus & Whitey's during college summer breaks. Ocean City has great beaches but no alcohol. (Thank God Wildwood's boardwalk and bars aren't far away.)
Atlantic City was a close escape for Philly Italians. I still like to visit what's left of that community – Angelo's Restaurant, The White House sub shop and Formica's Bakery are must stops. We hit them all while in AC. Thank God I didn't lose all my money in the slots so I could eat a little something.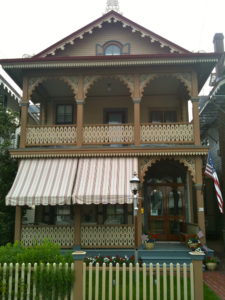 But this week we were headed even further south to Exit Zero on the Garden State Parkway – Cape May, a cute little town filled with restored Victorians from the mid-1800s.
The beaches are uncrowded and a mile wide. The historic lighthouse is surrounded by a wetland preserve. Herons, ducks, swans and migrating raptors abound.
I was driving my friends crazy talking about what I wanted to eat for lunch once we hit Cape May. I craved fried fresh fish. As we searched for a place to eat I espied The Sea Shanty tucked in a nondescript strip of stores across from the beach and I made a mad dash the rest of my posse following slowly behind.
I saw the hand-written fish list in the window and was heartened. Once inside I met Kirkland, a no-nonsense cook who really knows what he's doing. I was hooked. Not the sit-down restaurant my friends had in mind but they took the plunge.
Kirkland has a different light coating for each of the fish he fries up fresh.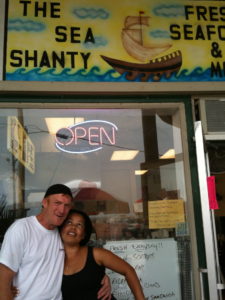 I had the 3 way combo – shrimp, local scallops and clams all with a light crispy crunch and succulent interior. The haddock filet was so big it hung off the paper plate so I just had to help Margaret eat some of that too.
All the fish really needed was a squeeze of lemon but Kirkland's delightful wife Lourdes makes sure you don't run out of the homemade cocktail and tartar sauces or the lemon aioli. The Maryland lump crab cakes, lobster roll and the whole belly Ipswich clams looked fantastic but I didn't have room to eat those too. Clean, pristine tastes of the sea. I was in heaven.
Don't miss this inconspicuous spot at 711 Beach Road. Go inside to order from the board and grab a table outside. You won't be sorry!
Forget MTV.  This is what the Jersey Shore is all about.