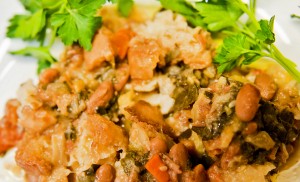 I've eaten a lot of the classic Tuscan soup Ribollita (re-boiled). This is one of the best I've had. With Stefania and Walter Gambaccini, the owners of BaoNecci on Green, it goes back 5 generations in their families in Altopascio near Lucca.
While Stefania and I were crafting this recipe she said to me that Ribollita isn't for "big-shots." It's "umide" – a "humble" dish for ordinary folks. I call this food la cucina povera (kitchen of the poor) or la cucina rustica (rustic kitchen).  Walter said that a ribollita could have as its base all sorts of left-overs that the cook has at hand. The left-overs are simply augmented, re-boiled and served over stale bread. This is the kind of food I like best.
This recipe will serve 6 to 8 people and takes at least 2 days to make. Make the soup the first day, let it sit overnight and re-boil it the next day assembling the zuppa as described below. We serve this soup on a plate not in a bowl. See if you can too!
This is a vegetarian soup. For meat-eaters, if you can find them at your Italian market, add a small prosciutto end and a piece of Parmigiano Reggiano rind. Other friends make this with a beef or chicken broth. Have it any way you want!
If you can't devote 2 days to Ribollita, the Day 1 zuppa (soup) is a wonderful minestrone.
[amd-recipeseo-recipe:19]