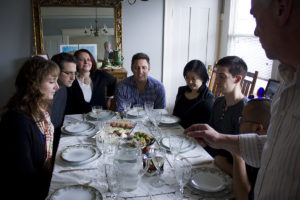 The rain broke long enough on Saturday to enjoy a pleasant 4 hours eating authentic Italian food, drinking Italian wines, and talking about Italian everything. From "Guidos" and Jersey Shore, to the aging process of artisenal balsamic vinegar, the conversation was all over the place and full of laughs.
Your San Francisco players – Gianni, Jeff, Vanessa, Charin, David, Jeff S., Karla, Nick, and JT – talked about how the lasagna was made from "poor man's" fresh pasta sheets (see how-to here). Even though Vanessa and Nick are engineers, it was Jeff S., the designer, who figured out how to cut the crostada into nine (almost) even slices. Gianni nudged JT to explore his ancestral Italian roots, Charin found a rogue rosemary sprig in her lasagna, and David played Neapolitan music on a ukelele.
Here's the menu for the day…
Antipasti
Carciofi alla Romano. Artichokes with a breadcrumb, minced mint, parsley, garlic, and anchovy stuffing poached in EVOO and water. An authentic treat from la cucina ebraica, straight from the Jewish ghetto in Roma.
Prosciutto di Parma
Molinari Sopressato Salami
Boschetto al Tartufo. Cow and sheep milk semi-soft cheese with white truffle from Toscano.
Robiola Bosino. Cow and sheep milk soft cheese from Piemonte.
Shallots in agrodolce. Cramelized shallots in a balsamic vinegar and sugar glaze.
Olive Calabrese. Olives, roasted red peppers, garlic cloves, Calabrese chili in an EVOO marinade.
Vino: Doro Brut Valdobbiandene Prosecco (DOCG), La Vigne di Alice, NV, (Veneto). A great match for the varied antipasti. Apple and bread aroma. Dry, balanced and creamy. Tiny but mighty bubbles.
Primo
Lasagna al forno con balsamella. Layers of homemade pasta, Bolognese meat sauce, grated parmigiano and fresh mozzarella, and bechamel.
Insalata mista. Baby field greens and arugula dressed with "La Mola" extra virgin olive oil, aged balsamico and fiore di sale (the very top crust of sea salt beds).
Vino: Aglianico Campania (IGT), Terredora DiPaolo, 2008 (Campania). Medium-bodied, deep black cherry color with red berries and violets in the nose. Soft, dry berry flavor with a touch of oak. Young and easy to drink and gutsy enough to stand up to the lasagna.
Dolce
Crostata di prugne con crema. Free form red plum tart with a dollop of whipped cream on the side.
Caffe.
And here are the photos…
Antipasti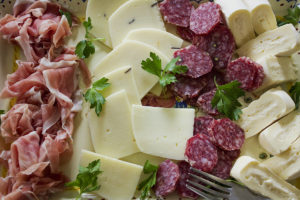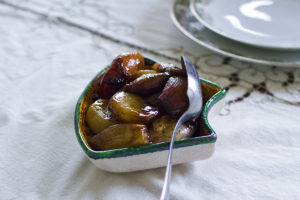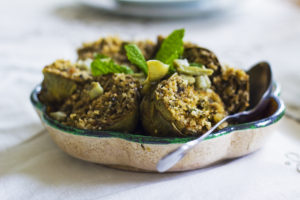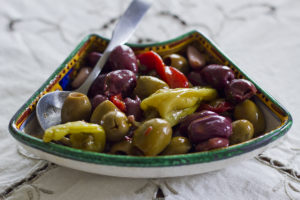 Primo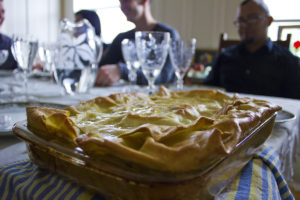 Dolce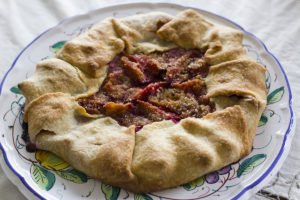 People